» Show All «Prev 1 2 3 4 5 6 ... 60» Next» » Slide Show
ANSON rope - a boy's real treasure from the deep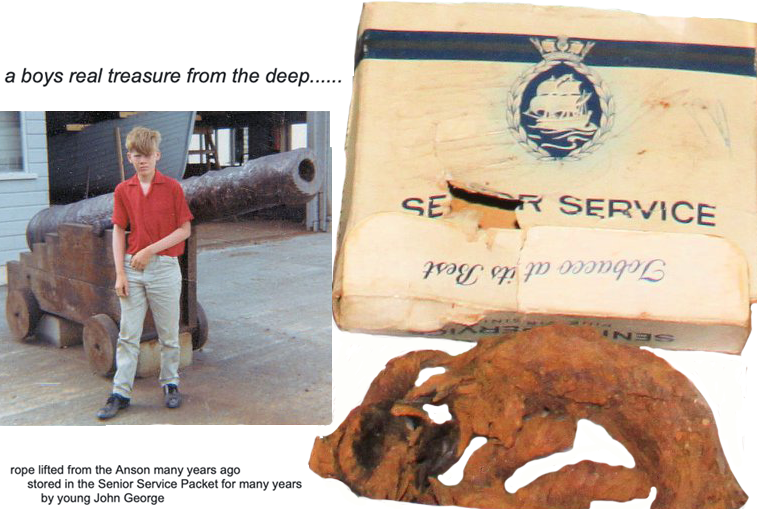 A BOYS REAL TREASURE FROM THE DEEP
This is an actual rope lifted from the Anson many years ago. It has been stored in the Senior Service packet for many years. The rope has now dried out so much it has disintegrated beyond hope of restoration.
This is its story:
When a child in the 1950s and 1960s my parents took me to Porthleven every summer and sometimes we would even travel from Biggleswade in Bedfordshire to Porthleven for the weekend. My father had been visiting the village from about 1938 with the scouts and met Frank Strike. He took me to see Frank when I was aged 5 much to Franks joy to see one of the scouts from when he was Scout Commissioner for the county. I remember going to the top of Frank Strike's garden looking over the houses with a panoramic view across the harbour and the bay. Father talked with Frank about HMS ANSON because two diver friends of father had been searching for its wreck site. Frank told Dad that the Admiralty map pinpointed its site but was wrongly marked. He said with his local knowledge to take a couple of sitings from the land and as they say, x marks the spot. The next day the divers found the wreck and took some time to bring up cannons, cannon balls, and the anchor. When I was a teenager they all were outside the harbourmaster's office.
When I was a child and the two divers brought up the anchor, it had a small piece of rope on it. It was cut off and a piece was given to me and the other bit went to one of the divers sons.....
John George
» Show All «Prev 1 2 3 4 5 6 ... 60» Next» » Slide Show