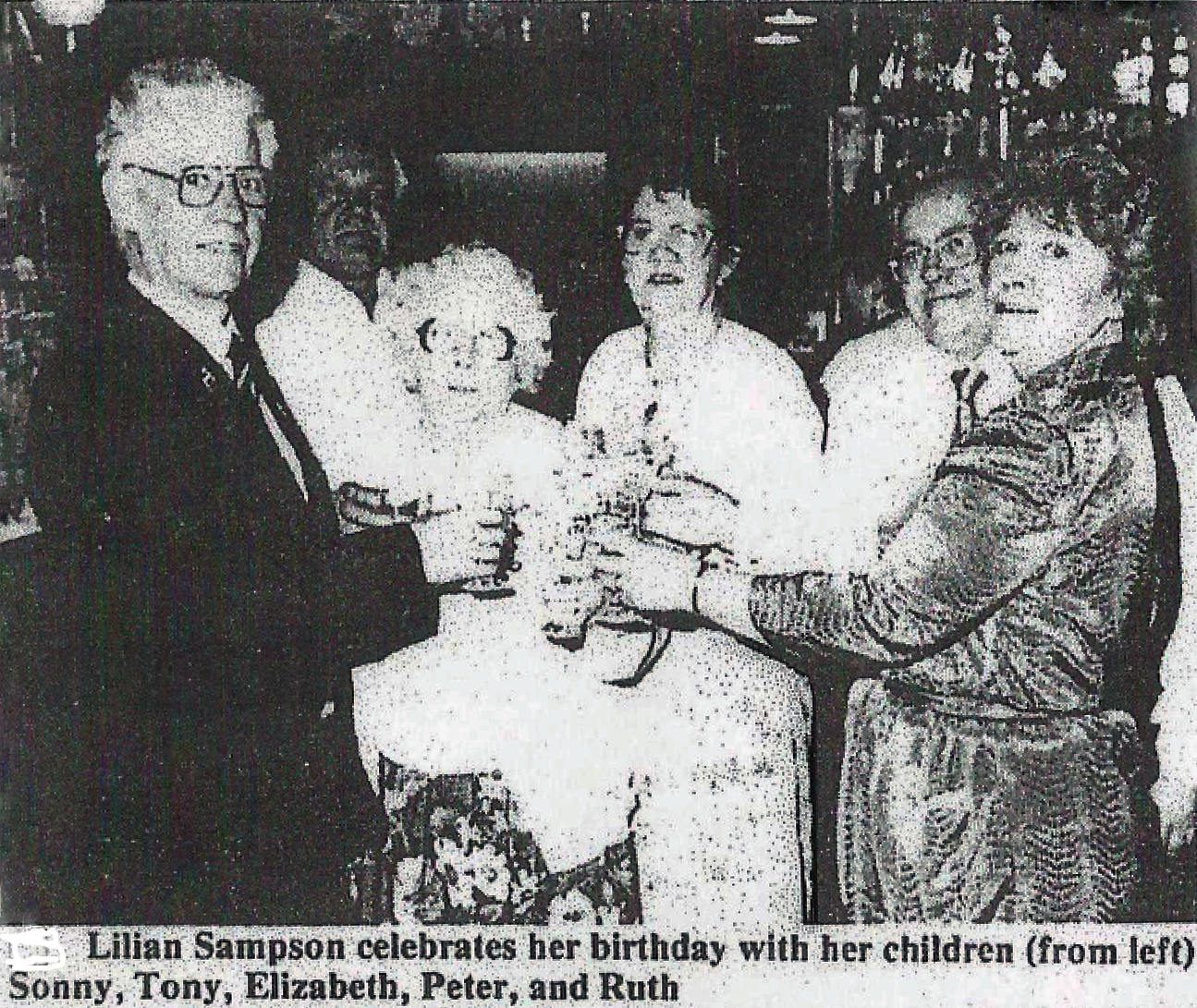 BIG PARTY for 90th BIRTHDAY
A Porthleven woman celebrated her 90th birthday with a massive family get together at the weekend. The party for Mrs Lilian SAMPSON was held at the Harbour Hotel. This was something of a homecoming for Lilian as she used to run the hotel with her husband, Cyril, when it was the Harbour House Guest House and Restaurant.
Parents: John & Lizzie HOSKING of Cliff Cottage, Gravesend, Porthleven.
School and early working life:
Apprentice dressmaker with Thomas of Meneage Street, Helston.
Nursemaid for families in Tregony & Gerrans.
Leaving Porthleven & moving to London:
Lilian worked as a housekeeper
her future husband,
Cyril F SAMPSON,
worked
as a butler/chauffeur.
Lillian & Cyril married in 1927 in Hornsey, London (Reg Dist: Edmonton)
They had had 6 children:
Their first child died age 10 weeks (? Anthony C SAMPSON born 1930, Marylebone?)
By 1992 they had:
In 1944 when the V2 rockets started hitting London the family moved back to Porthleven looking for a cottage.
However, the only house they found had 26 rooms - this was the Harbour House which they developed into a guest house and restaurant. They then opened a harbour cafe with snack bar further along the quay. Lillian and Cyril had the catering rights to the Winter Gardens at Penzance plus an extensive outside catering business serving dances from Lands End to Truro.
After the lease on the Harbour House expired the family moved to Kent, but not before Cyril had stints as chef at The Angel in Helston and the Praa Sands Hotel. Cyril died in May 1989 after 62 years of marriage. After his death Lilian returned to her native Porthleven where she now lives with her youngest daughter, Ruth.
Lilian was thrilled on Sunday when over 40 guests, including family and friends from all over the country, celebrated her 90th birthday with a meal at the hotel.